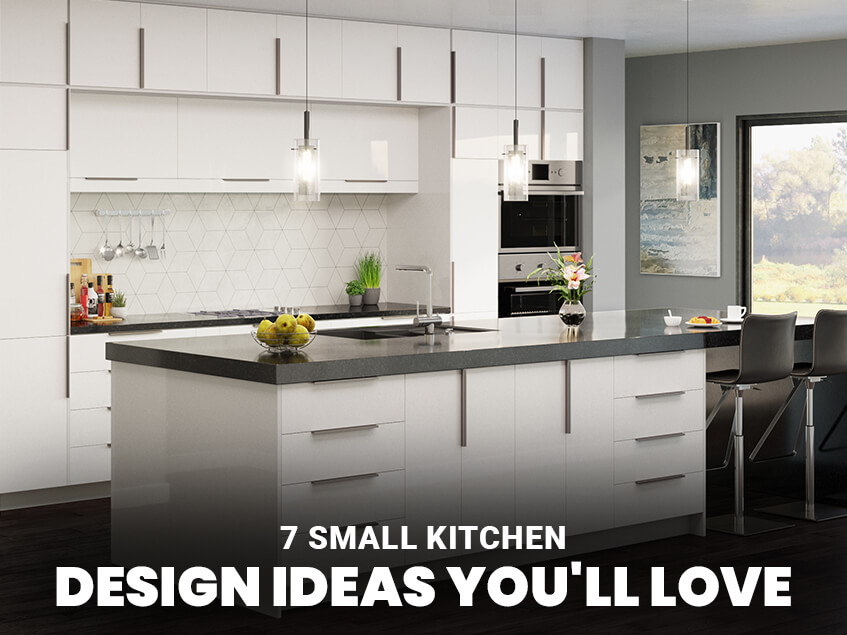 21 Dec

7 Best Small Kitchen Design Ideas You'll Love

As the heart of your home, it's important that your kitchen feels comforting. That's why kitchen designs are important to any home, big or small. And with apartment kitchen layouts getting smaller by the year, it's important that we showcase cute modern designs as a possible option. Smaller kitchen spaces can be perceived as a challenge and a bit intimidating because of the minimum space to work with. And kitchen renovation cost can be pricey and sometimes, unworthy. But smaller kitchens have a lot more potential than people think. With a bit of creativity and redesigning, there are ways to transform any kitchen design, big or small. Here are 7 Small Kitchen Design Ideas that Make the Most of a Tiny Space:
1. Opting for Open Glass Cabinetry
Open glass cabinetry is a cute and modern way to showcase your fancy dishware. It's also a great way to make your kitchen layout appear airier and more spacious. Even switching out a few cabinets for an open glass cabinet could make all the difference your kitchen needs. Some great open glass cabinet ideas can be found on Houzz.
2. Remove Cabinet Hardware
Sometimes less is more and the things we may view as essentials are really not that necessary. Cabinet hardware is one of the few things that aren't necessary in the kitchen. Removing cabinet handles and opting for handless cabinets can influence your kitchen space tremendously but providing a flush and smooth finish to your kitchen cabinets. Doing so could also save you from those painful bumps into cabinet hardware, while trying to move your minimal kitchen area.
3. Smaller Cabinets
If you're working with a quaint style kitchen, you might want to think about how your kitchen cabinets impact your space as well. Often, we find that the measurements taken for cabinets in a smaller kitchen space are like the average measurements for a larger kitchen. This shouldn't be. When you're in a smaller kitchen, the last thing you want is bulky cabinets getting in the way every time you move around or open the cabinet door. Selecting cabinets with smaller dimensions will give you more flexibility when cooking up those loving meals.
4. Chose Light Kitchen Colors
White kitchen walls are the go-to for a clean and spacious look for any kitchen but that doesn't mean you can't switch it up. Often, people are affairs to test out other kitchen wall colors, in fear that will enclose the space, especially for smaller kitchen areas. But, contrary to the belief, smaller kitchen areas could benefit from a color change. The key is choosing lighter colors that compliment your kitchen space. Keeping your home décor in mind, picking colors such as tan, light blue, pale yellow, or even shades of light greens, can make your kitchen appear bigger.
5. Change Kitchen Cabinet Colors
While you're already considering a wall color change in your kitchen, you might also want to think about opting for a change in cabinet colors. If you're going for lighter colors on your kitchen walls, then choosing a darker shade of kitchen cabinets could balance out the space, also helping to maintain a bigger appearance. Darker shades of wooden cabinets are a great choice for modern homes or apartments, but again, don't be afraid to play with cabinet colors. Going with bold, bright cabinet colors at the top, and neutral, chic cabinets at the bottom is also a great option. At Boger Cabinetry, some of our most popular cabinets are the Aria Blue and Smokey Grey. These shaker cabinet styles are both unique and bring a nice mellow tone to the kitchen, while also catching the eyes of family and guest.
6. Smaller Appliances
A big way to free up some space in a smaller kitchen is by downsizing your appliances. No need for a hug microwave or stove, when you can collect smaller appliances with just as much cooking power as bigger appliances. Thinking about replacing your countertop microwave for an over the stove microwave or finding ways to install the microwave into your cabinets is a great idea. Here are some visual examples of microwave cabinet integrations from Better Homes & Gardens.
7. Concealed Storage
Having more storage space is always a plus, but when you're working with a smaller kitchen layout, that can be hard to achieve. Getting creative with ways to make more space is necessary for smaller kitchens. Using accessories such as open-and-closed storage racks, doubled-stacked cabinets, wicker baskets, or even spice racks can help limit the storage issue.
Are You Ready to Update Your Kitchen This Holiday season?
The new year is coming and there's no better time to get prepared than now! If you're in the mood for a new kitchen setting, then the holiday season is the perfect time to update your kitchen design. There are many cute and festive design looks to achieve but it's important to keep the rest of the year in mind as well. Consider these trendy kitchen design looks, that'll last through this holiday season and every season:
1. Pattern Tile Floors
A great way to add some style to a smaller kitchen space is to apply some quick tile to the floors of your kitchen. You can pick any pattern and color that fits your kitchen layout, and it will bring a different vibe into your kitchen. Tile patterns are a nice way to distract from the minimum space that smaller kitchens offer. They also fit well with many holiday themes and make a create way to dress up the kitchen with holiday spirit. And lucky for you Boger Cabinetry offers flooring as well, for your kitchen redesign projects.
2. Accent Wall Backsplash
Kitchen backsplashes are an underrated accessory to the kitchen decorum. A great way to transform your kitchen design is through a modern tile or metallic backsplash. Depending on your mood and your kitchen layout, your backsplash can be pretty much any design or color or both! These are also a great option for any festive holiday season. They not only add color and aesthetic to your kitchen walls, but they seem to takeaway from the smaller kitchen look.
3. Floating Shelves
Floating shelves is something to keep around all year long. When you're working with a small kitchen area, having open space helps the kitchen not feel so congested. Open floating shelves allows for you to maintain that open space feeling, while also allowing you the storage space you need for your kitchen items. In addition, during the holidays, having shelving makes holiday decorations a breeze to put up in the kitchen. Add your Christmas garlands, stream lights or even an Elf on The Shelf for all the holiday joy!
What is the Best Design for a Small Kitchen?
While we've given you some great kitchen design ideas, if you're looking for the best kitchen design that will fit almost any kitchen layout, then creating consistency with your color palate and patterns is your best option. Bringing the same color palate from the floor up to your ceiling can do a lot for your kitchen space. The consistency of lighter colors and smaller print patterns attracts the eyes, and again, distracts from the overwhelming amount of limited space.
Conclusion
There are so many options when designing your kitchen, whether big or small. The most important thing is that you choose a kitchen design that best represents your personality in your home. At Boger Cabinetry, with our wide selection of upscale cabinets, hardware and flooring, we hope to help you do that and at an affordable price. Visit our Indiana showroom or get a free professional kitchen design quote. Whether you're going for a full renovation or a simple kitchen redesign project, Boger Cabinetry has you covered!