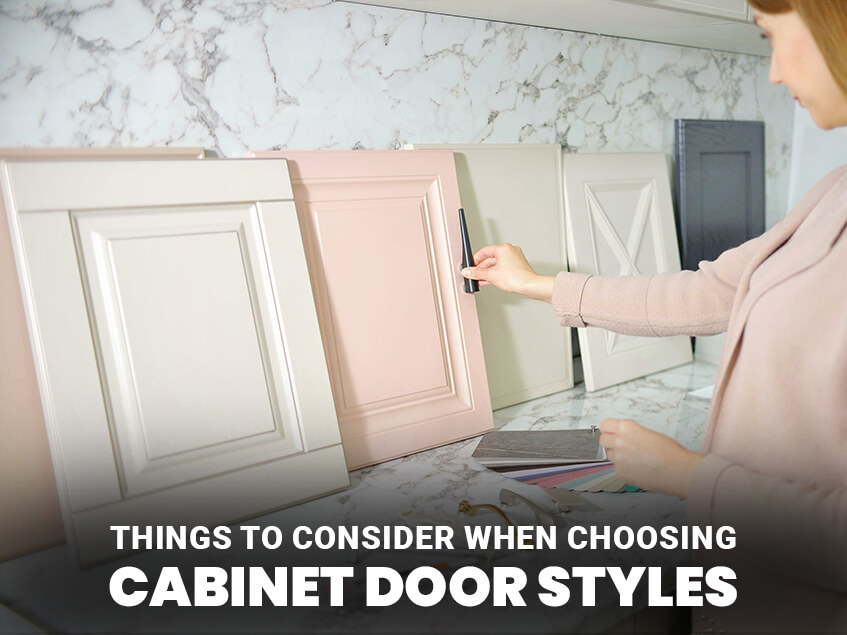 16 Sep

Things to Consider When Choosing Cabinet Door Styles
Things to Consider When Choosing Cabinet Door Styles
Choosing your kitchen cabinet doors sounds like an easy, cosmetic decision, but it's far from that. You may not think much about your cabinet doors, but they significantly impact your kitchen's overall style. Shaker-style cabinet doors can give your kitchen a clean, modern look, while a cabinet door featuring some moldings can give your kitchen an elevated, sophisticated look. To choose the best cabinet doors for your kitchen, you need to be aware of pricing, kitchen layout, kitchen style, door overlay, and color.
Price
Effective budgeting can go a long way in helping you find the right cabinet doors for your kitchen. I know this is the least exciting factor in picking out new kitchen cabinet doors, but it is the most important for many people. Whether you just want new cabinet doors or are completely redesigning your kitchen, it's essential to conduct pricing research and set a reasonable budget for yourself and your project. This way, you can understand the general price range for kitchen cabinet doors and what works within your budget.
Kitchen Layout
Once your budget is in place, it's best to look at your kitchen as a whole. How is it structured and laid out? Does your kitchen storage space rely entirely on cabinets, or do you also have drawers? Do you have a lot of drawers? It's essential to look at what cabinet door styles you like and how they fit into your cabinet structure and kitchen.
Are there any custom features in your cabinet layout, such as spice drawers, that you need to account for? It's important to note any custom features or sizes in your cabinets so you can incorporate them into your budget and prevent yourself from ordering cabinets and cabinet doors that don't fit.
Kitchen Style
Now to something a little more fun, your kitchen style. Your kitchen style speaks to who you are and your priorities, and cabinet doors are crucial to showing that style. Because of the prominent amount of space they take up between upper cabinets and lower cabinets, they not only impact but set the tone for your kitchen's style.
If you prefer a minimalist style, focusing on blacks, white, and grays with, at most pops of color, you may want to choose shaker-style cabinet doors. Meanwhile, if you prefer a more classic, traditional kitchen style, you might like to go with something more ornate, such as Casselberry-style cabinet doors.
Door Overlay
When choosing cabinet doors, you also need to understand the difference between overlay and partial overlay cabinets. Full overlay cabinets almost completely cover the cabinet box, leaving a ¼-inch gap between the doors so they can open and close seamlessly. This style comes from Europe, where frameless cabinets are the norm, but it has become more popular in the United States, especially with the rise of shaker cabinets. On the other hand, partial overlay cabinets leave larger gaps between cabinet doors, around one to two inches. This style is more traditional in the United States, revealing the cabinet frame beneath the door.
Color
Let's be honest, the cabinet door color is what you probably spend the most time thinking about. Understandably so, the color is perhaps the first thing you'll notice when picking them out and when you walk into a kitchen. You can use dark or neutral colors that tie your kitchen together and allow the eyes to be drawn to another feature of your chosen kitchen, such as a backsplash. There's also no reason you have to pick just one color. You can draw the eyes to your upper cabinets with a pop of vibrant color and contrast it with darker base cabinets.
Where Can I Get Quality Cabinet Doors?
Your kitchen cabinet doors are one of the most noticeable parts of your kitchen and have a massive impact on your kitchen's style. By deciding on the price, color, and style you are looking for, you can rest assured that you'll be happy with your kitchen cabinets for many years to come.
Boger Cabinetry specializes in quality cabinets at affordable pricing, so you can rest assured that you'll get quality cabinets at a great price. When you're ready to update your kitchen cabinets, check out our wide selection of Kitchen Cabinets today or come to our showroom in Fisher, IN to look at our complete line of assembled cabinetry!
Questions? Contact us at: