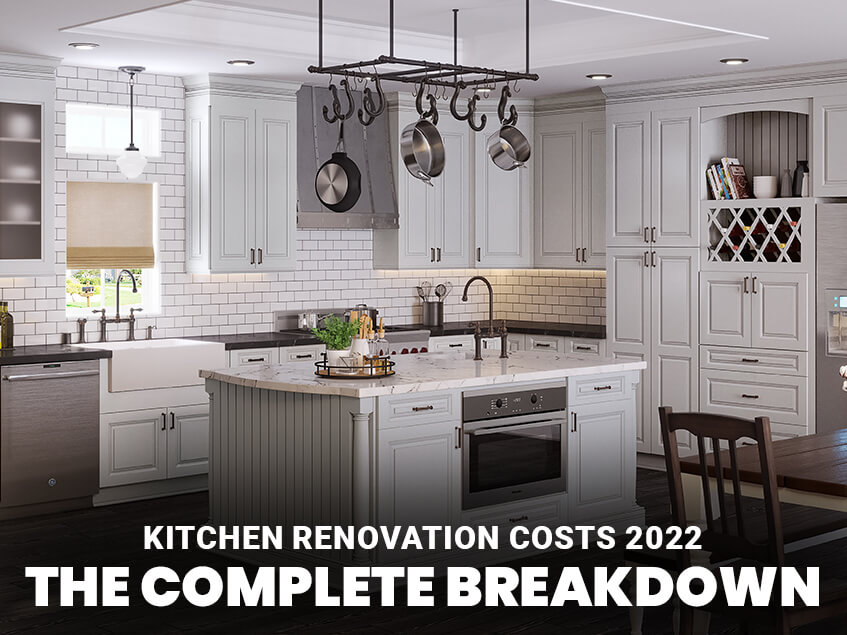 26 Sep

Kitchen Renovation Costs 2022: The Complete Breakdown
Kitchen Renovation Costs 2022: The Complete Breakdown
When it comes to kitchen remodeling, there are so many choices. Whether to update your kitchen or completely overhaul it, there are so many different costs that come along with each option. It can seem like there's no end to the amount of money you could potentially spend on updating your home. With that being said, we have broken down some of the most common costs when it comes to kitchen renovation in 2022, and how you can save money by shopping at the write store.
What is the Average Cost of Kitchen Renovation in 2022?
An average kitchen redesign costs between $15,000 – $22,000. The amount you pay will depend on several variables, including the size of your kitchen, the materials you choose, whether you hire professionals or do the job yourself, and whether you change cabinets or do a full renovation. A less significant section of your house may also be renovated to save money. While you might feel like you've accomplished something, you can keep costs low by undertaking a remodel on a lesser-valued room. It's important to keep in mind the cost of elimination. For example, you might need to demolish part of your kitchen before replacing it. Demolition costs are vital to keep in mind because they may have a huge impact on your overall remodeling expenses.
Take into account the costs of installation when considering a purchase. In case you are getting new cabinets or backsplashes, the price of these will be included in the purchase price. The price of a new kitchen will account for replacing your kitchen cabinets as well. You may save money on kitchen remodeling by doing it yourself. This allows you to choose your own cabinets and countertops, which is not common in commercial kitchen settings. You must consider the installation costs if you plan on doing a DIY kitchen remodel. These costs must be included in your budget.
The Materials You Choose Determine the Outcome.
Saving money on kitchen remodeling is straightforward if you choose your materials carefully. Most kitchens are made with standard cabinet and countertop materials. Since standard materials are not the least expensive ones, you may be able to save money by choosing less costly ones. You may also be able to find leftover material from your previous kitchen in your new one. You may be able to keep your renovation costs down by purchasing secondhand items at a garage sale or by asking if anyone has any extra items they are not using.
How to Reduce the Cost of Kitchen Renovation
If you're thinking about doing a scaled-down kitchen redesign, keep your expenses low by using less costly materials. Another method to keep renovation costs down is by having a buddy help you with the work. This is particularly helpful if walls must be demolished. Before you begin pricing out improvements, you should consider how you will pay for them. There are several strategies to fund a remodel that depends on your financial situation. The most critical adjustment to your kitchen is likely to be replacing your cabinetry. RTA Kitchen Cabinets are both assembled and ready to use. RTA Cabinets are typically less costly than assembled kitchen cabinets, and you may DIY the assembly to save on contracting fees.
Start Kitchen Renovation with RTA Cabinets
Replacing your kitchen cabinets can have a big impact. Consider RTA Kitchen Cabinets or Assembled Kitchen Cabinets if you want to DIY your kitchen cabinets. RTA Cabinets are economical and simple to DIY assemble, saving on contracting fees. You should also consider how you will pay for renovations before you begin pricing them out. There are numerous ways to finance renovations, depending on your financial situation. To get an idea of how much you will spend to replace your cabinets, get a price quote from Boger Cabinets!
Shop Boger Cabinets for the Best Deals
Boger is one of the leading kitchen cabinet suppliers, offering a wide variety of styles and finishes for you to choose from, so you can find one that matches your kitchen décor perfectly.
A Sample Breakdown of Costs
Cabinets: 7000.00 – Wood boxes, soft close, dovetail drawers, full overlay, etc.
Basic Install: 2000.00 – Includes removing old cabinets
Countertop: 4,000.00 – Entry level quartz or granite
Backsplash:1,500.00 – Basic tile and labor
Lighting: 600.00 – LED tape lighting and installation during cabinet install.
Paint: 150.00 – Material only
Total: $ 15,250.00
In addition, you can count on them to be sturdy and long-lasting. Contact us today to get a Free Kitchen Design!
FAQs
How much is the average cost of kitchen remodeling?
The average cost to remodel a kitchen at Boger Cabinets is between $15K – $22K, which is significantly lower than usual.
Where can I purchase RTA Cabinets?
You can buy RTA Cabinets from Boger Cabinets!
Is it expensive to remodel a kitchen?
Although it can be pricey to remodel any part of your home, you can save money by shopping at Boger to get the best deals on kitchen cabinets!
Are RTA Cabinets expensive?
RTA cabinets are often less expensive than assembled cabinets. Boger Cabinetry has RTA cabinets for wholesale prices.