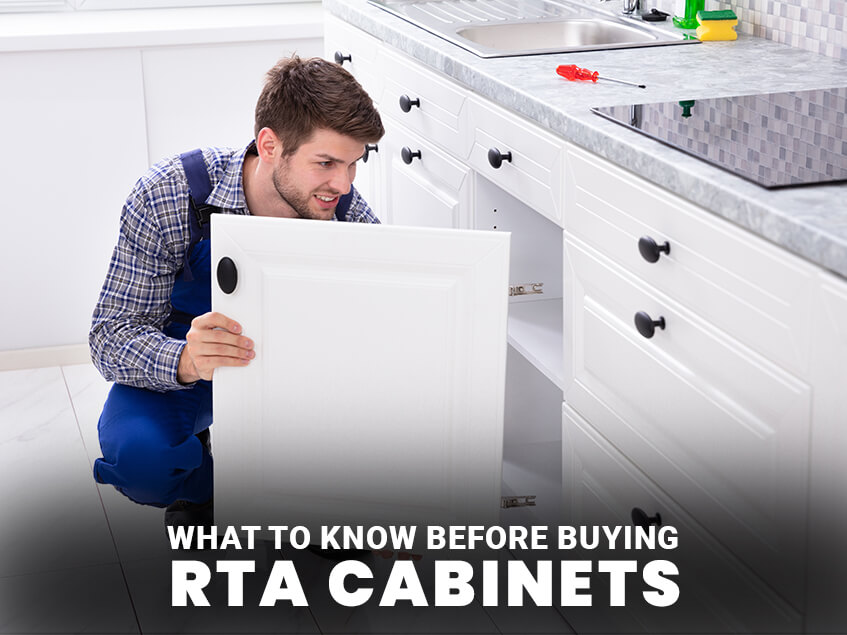 01 Apr

What to Know Before Buying RTA Cabinets

You've probably seen the sharp rise in RTA kitchen cabinets recently if you're reading this. Their popularity has exploded from convenience, pricing, and a wide selection of cabinets.

Kitchen cabinets are an investment and finding the right ones for your kitchen and lifestyle are never easy. Before you can find the best RTA cabinets for you, let's look at what to know before buying RTA kitchen cabinets.

What are RTA kitchen cabinets?

RTA cabinets, or Ready to Assemble cabinets, are kitchen cabinets delivered to you as components that still need to be put together. Although there is additional work to be done once it arrives, it is easier to ship this way, reducing the cost of the cabinets.

RTA Kitchen Cabinet Cost

Let's face it; the cost is essential when choosing cabinets. You may find the right style for your kitchen, but if it isn't in your budget, it doesn't matter.

RTA cabinets are growing in popularity because they cut out lots of costs. Because they aren't assembled, they take up less space during shipping and are less likely to be damaged, so shipping costs are reduced. On top of that, labor costs are reduced because the cabinets aren't assembled in the factory. Reducing these costs can save you hundreds of dollars on a set of cabinets.

Assessing Your DIY Skills

The one aspect of RTA cabinets that gets many people nervous is the do-it-yourself portion. Building cabinets yourself sounds daunting but is much more manageable than it sounds. All RTA cabinets from Boger Cabinetry include step-by-step instructions to make the assembly process as simple as possible. In addition, we have assembly videos so you can see how to install your RTA kitchen cabinets.

Knowing Your Style

There is no shortage of ready to assemble cabinet styles at Boger Cabinetry. Whether you have a modern-style kitchen or farmhouse style, we have cabinets that will fit your kitchen. Our Shaker White cabinets are perfect for a wide variety of styles, such as modern, or we have Casselberry Saddle cabinets that are great for building a more contemporary aesthetic. We have the best RTA cabinets to help you build your dream kitchen no matter your desired style.

Additional Information to Know

Let's take a moment to answer some additional questions about RTA kitchen cabinets you may have.

Does it take many days to assemble RTA kitchen cabinets?

Most RTA cabinets can be assembled very quickly. Wall cabinets can be assembled in as little as 7-10 minutes, and base cabinets take 10-15 minutes.

What tools do you need to assemble RTA cabinets?

A few standard tools are all you need to assemble RTA cabinets:
Cordless Drill: Drills are necessary to securely fasten cabinet faces, assembly clips, and other cabinet components that require screws. A drill with a cord can be used of course, but a cordless drill gives you greater maneuverability to properly secure the screws.
Wood Glue: When assembling RTA cabinets, wood glue helps create strong, secure connections between cabinet faces. Apply wood glue to the connection grooves in the RTA kitchen cabinets for maximum security.
Rubber Mallet: Rubber mallets help secure cabinet faces as they are put into place. A few taps with a rubber mallet will ensure a secure connection when sliding cabinet faces into place. Rubber mallets can also help secure dovetail joints on RTA cabinets.
Rags or Paper Towels: Rags or paper towels are necessary to wipe away any excess wood glue from the faces of your RTA cabinets.
Plastic Tarp: When assembling RTA cabinets, it's best to lay down a protective layer, such as a plastic tarp, to protect your workstation from wood glue, scratches, and other possible damage. It also keeps your RTA cabinets looking clean and undamaged.
What are the benefits of Ready to Assemble cabinets?
Ready to assemble cabinets are the preferred option for many home and property owners because it is easier and cheaper to ship the components of a cabinet rather than a fully assembled cabinet. They are also more affordable than assembled cabinets because they don't require the labor cost to put the cabinet together.
RTA cabinets are a great option when choosing cabinets for your home, property, or business, especially if you are looking to reduce costs from assembled cabinets and have some time to build them. Boger Cabinetry can get you started on your RTA cabinet journey. For the best RTA cabinets, check out our selection today!