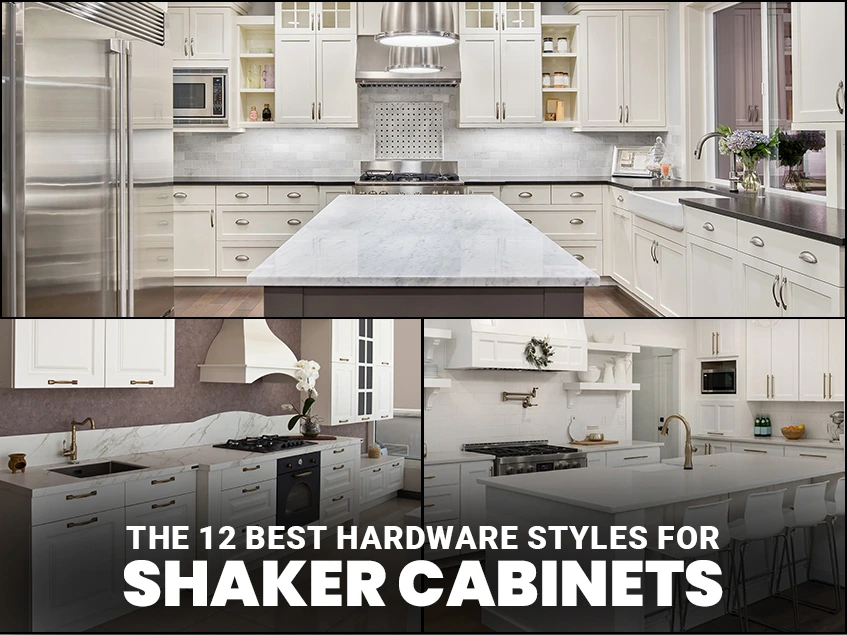 15 Apr

The 12 Best Hardware Styles for Shaker Cabinets

Choosing the hardware for your shaker style cabinets may seem like a small cosmetic choice, but a small thing like hardware can have a big impact on your kitchen's style. They can give your kitchen a rustic look or the sleekest, most modern kitchen in the neighborhood. They take up very little space in your kitchen, but your hardware choice has a large impact on your aesthetic. These 12 hardware types for shaker cabinets are sure to give you the look and feel you want in your kitchen.
Brushed Gold or Brushed Champagne Handles
Brushed gold or brushed champagne handles are very trendy and for good reason, as they look fantastic paired with pretty much any color! If you have white, gray, blue, or even wood colors, the brushed gold or champagne handles will elevate the look of your shaker cabinets.
Nickel Knobs
Nickel knobs or pulls are a classic look that pairs well with white shaker kitchen cabinets. The clean look of the nickel pairs well with the shaker cabinet's simple design, giving your kitchen a smooth, clean, bright look. A combination of nickel pulls and knobs on white shaker cabinets can elevate a modern kitchen style.
Flat Bar Pulls
Much like shaker cabinets, flat bars give your kitchen a minimalist look. A smooth, clean look that values function over decoration. Plus, they work on both drawers and cabinets for a cohesive look. Flat pull bars are an excellent choice for contemporary-styled kitchens.
Accented Wire Pulls
For a little more flair in your kitchen, accented wire pulls also pair well with shaker style cabinets. Moving away from modern looks, wire pulls with some decorative detail add traditional accents to your kitchen. Shaker cabinets as so simple and versatile, that a simple decorative flair with accented wire pulls can give your kitchen an elevated, sophisticated look without being too opulent.
Arced and Footed Pull Bars
If you have a light-colored kitchen featuring white shaker kitchen cabinets, it can be difficult to add variety to your space while keeping the look smooth and clean. Simply using arched and footed pull bars, meaning vertical pull bars on cabinets and horizontal ones on drawers, can add a subtle touch of variety. Arced and footed pull bars keep your kitchen from feeling stale without taking away from the simple, clean look.
Knobs and Pulls
Another subtle way to add variety to your kitchen is to mix knobs and pulls. They are simple enough features to not look out of place on your shaker kitchen cabinets but keep the kitchen from feeling monotonous. This usually works best for kitchens that feature light or muted colors where even subtle differences add to the room. The pull bars usually look best on the drawers while knobs work on the cabinets.
Arc Pulls
Arc pulls lean into the clean, simple style of shaker cabinets. They are smooth, rounded pulls that don't call much attention to themselves because they lack sharp features and usually come in softer, lighter colors. Rather than stand out from the cabinets, the arc pulls let the simplicity of the shaker style cabinets speak for themselves while they become a smooth, seamless part of your kitchen. For a modern or contemporary kitchen, there aren't many better choices than arc pulls.
Glass Knobs
Glass knobs are an elegant addition to your shaker style cabinets. Shaker cabinets are known for being great additions to modern-styled kitchens but can be easily elevated with classy hardware like glass knobs. The light, reflective nature of the glass is a great addition to white shaker kitchen cabinets as they help brighten the room. Glass knobs are also easy to keep clean.
Matte Black Hardware
Matte black hardware is a popular choice for modern-styled kitchens with white shaker cabinets. They create a sharp contrast that keeps your kitchen looking clean and interesting. It highlights the beauty of clean white shaker kitchen cabinets.
Classic Metal Knobs
There are always the old reliable metal knobs for shaker white cabinets. The vintage look completes both modern and classic-styled kitchens and can match any color scheme thanks to a wide variety of usable metals from zinc to brass.
Cup Pulls
Cup pulls can work on shaker kitchen cabinets for a wide variety of styles depending on their coloring. They can come in rusted colors for farmhouse styles, or they can be black for a contrasting modern color scheme.
Because of their simple design, a wide variety of hardware can be equipped to your shaker style cabinets to match any kitchen style you are going for. To give your kitchen beautiful, versatile shaker cabinets, check out our selection today!
FAQs
What are shaker style cabinets?
Shaker style cabinets have been around since the 1800s. Going against the opulent designs of the time, the shaker style focuses on simplicity, durability, and affordability. They are made of hardwood, so they are durable and don't include lots of extra trimmings or finishings, bringing down the cost. They use rail frame and panel construction, recessed panel doors, and hidden hinges to give it a clean, simple, timeless look that goes with a wide variety of kitchen styles.
Are shaker cabinets going out of style?
Shaker cabinets have proven staying power over other kitchen cabinet trends. Their simplicity, affordability, and durability will always keep them popular. Their simplicity allows them to go with a wide variety of kitchen styles and can be a mainstay as you go through multiple kitchen renovations.
What hardware looks best on shaker cabinets?
There is no shortage of hardware options that look good on shaker cabinets. For a modern look, matte black pull bars create a beautiful contrast with white shaker kitchen cabinets. If you want a more rustic look though, accented wire pulls can help you feel like you're on the farm.
Are shaker cabinets modern?
Although they were first developed in the 1800s, the clean, simple look of shaker cabinets works well in modern or contemporary designs.
Are shaker cabinets good quality?
Shaker cabinets are considered high quality because of their simple design and hardwood construction. They are designed to last many years.
Where to place handles on shaker cabinets?
Most often you place the handles at the center of the shaker cabinet's inset panel. They will usually be toward the bottom of wall cabinets and toward the top of base cabinets.