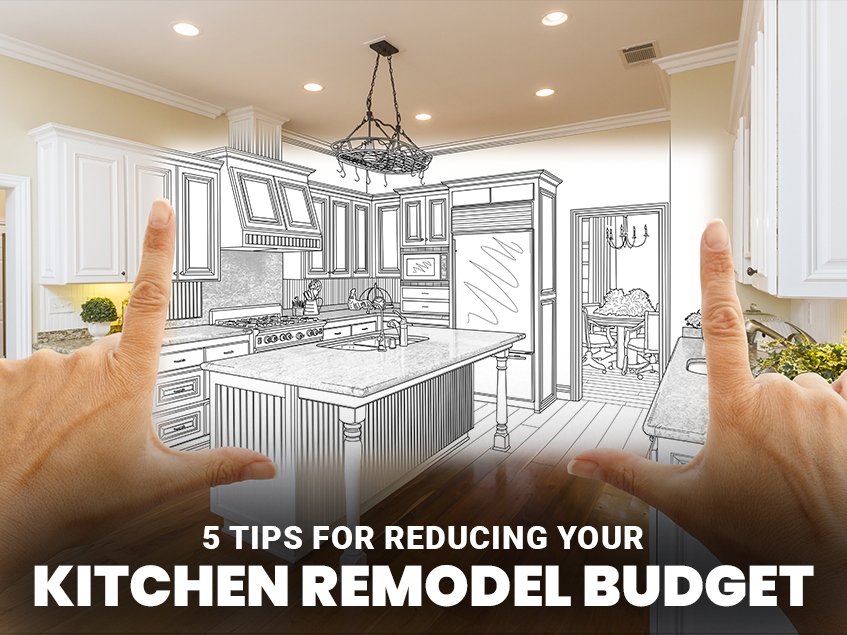 20 May

5 Tips for Reducing Your Kitchen Remodel Budget

Kitchen remodeling projects are laborious, time-consuming, and, most importantly, expensive. A kitchen remodel cost can be a few thousand to tens of thousands of dollars. Not everyone can afford such costly kitchen remodeling projects. Luckily, there are ways to reduce costs effectively. These five tips for remodeling your kitchen on a budget will help you get the most out of your kitchen without paying through the nose.

Keep Your Kitchen Layout the Same

An enormous kitchen remodel cost is creating an entirely new kitchen layout. A new kitchen layout isn't just a matter of moving everything around; the infrastructure of your kitchen must be ripped out and replaced. The plumbing for the fridge, sink, and dishwasher will have to be changed. Your electrical wiring will have to be moved and you'll also need to have your entire kitchen redesigned. The kitchen remodeling cost will skyrocket with all the material and labor costs.

Meanwhile, you'll save a lot of money by simply updating different parts of your kitchen and keeping the current layout intact. Are new backsplash and kitchen cabinets cheap? No. But are they more affordable than tearing your kitchen apart to install new plumbing and electric wiring? Oh yeah.

When remodeling a kitchen on a budget, consider keeping your layout as-is. Taking the bones of your kitchen and updating the finishes can give your kitchen a whole new feel while significantly cutting down the kitchen remodel cost. A new countertop, a fresh coat of paint, and new tile can transform a kitchen space, making it look and feel completely different.

RTA Cabinets

A simple tip for anyone trying to cut the kitchen remodeling cost is to order RTA cabinets instead of assembled cabinets. RTA cabinets, or ready-to-assemble cabinets, are kitchen cabinets assembled on-site instead of in the factory. They are the same quality as their assembled counterparts but ship more easily because they come in flat boxes and are less expensive because you build it yourself instead of paying for them to be built.

Using RTA cabinets is a great kitchen remodeling idea that cuts costs, but many people worry about putting cabinets together and installing them themselves. You don't need to worry, though. RTA cabinets can be built in as little as 15-30 minutes and are easy to construct, requiring only a few tools. Our RTA cabinets include step-by-step assembly instructions, and if you're a visual learner, you can watch our assembly videos.

For quality RTA kitchen cabinets, check out our wide selection of cabinets today!

Kitchen Refresh

Another way to cut costs on your kitchen remodeling budget is to keep your current kitchen cabinets and refresh them. This is a kitchen remodeling idea that can save you thousands of dollars.

Simple Backsplash

Large, intricate kitchen backsplashes can quickly cause your kitchen remodel cost to rise. Covering large amounts of your kitchen walls with a beautiful backsplash can make for an attractive focal point, but it isn't necessary, especially when you are on a budget. A backsplash that takes up less space can still have a beautiful design and act as a more subtle focal point or even an accent piece.

Subway tiles are an inexpensive option for a backsplash and can have various designs. Adding a stencil to your subway tiles can make your kitchen feel more personal without paying for custom kitchen remodeling costs.

We feature several back splash styles that have been incorporated into kitchen displays in our Fishers, IN showroom.

Plan Ahead

The best way to save money when conducting a kitchen remodel on a budget is to make a thorough plan. Start with what you want to accomplish and create a budget around that. Make sure everything you want is available before you start purchasing materials or remodeling, so you don't have to scrap your plans or improvise, which will cause your costs to climb fast.

Let our team at Boger Cabinetry & Design assist you in coming up with a plan to insure that your ultimate remodel plans are achieved at a budget you are comfortable with.

Ready to Remodel for Less?

Remodeling a kitchen isn't easy and remodeling a kitchen on a budget is even more difficult. Creating a plan, getting everything you want, and finding places where you can refurbish what you have instead of tearing everything out will drastically reduce your kitchen remodeling cost.

Creating a plan and getting everything you want can be simplified by starting at Boger Cabinetry & Design.

Order your RTA cabinets today or stop in at our showroom to see our full line of assembled cabinet style offerings. We look forward to seeing you!

New Hardware

A very simple way to update your kitchen cabinets is to change the hardware. New hardware can give your kitchen a completely new accent and saves you a lot of money on your kitchen remodeling budget.

Boger Cabinetry has a full line of hardware for any kitchen refresh effort in our showroom for your viewing.