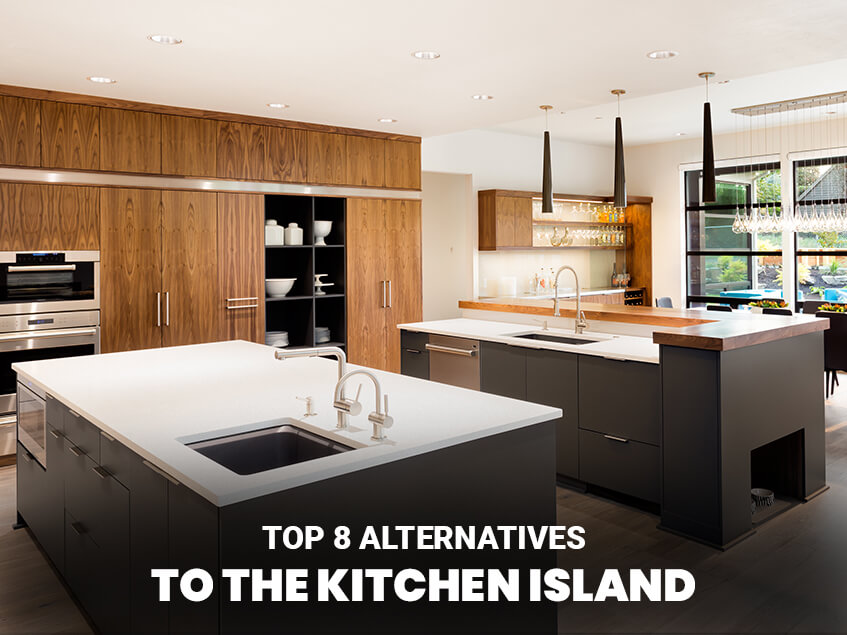 19 May

Top 8 Alternatives to the Kitchen Island

Kitchen islands can be a hit or miss for some homeowners and it's ok if it's not your preference. Finding other styles and kitchen trends to upgrade your kitchen with can be a bit of a trick but it's not impossible.
Highlights:
There are many alternatives to kitchen islands that homeowners may prefer.
There are other ways to achieve additional space, storage and decorative opportunities than a traditional kitchen island.
A wall-mounted table is a great alternative for smaller kitchens because they accommodate the limited kitchen spaces.
There are many ways to transform your kitchen or just simply add a little more counter and storage space. The trick is finding the right design that fits your kitchen layout and your personal style. Here are a few ideas for kitchens without islands:
1. Kitchen Peninsula:
If homeowners are worried about taking up too much kitchen space with a solo kitchen island, a kitchen peninsula is a great option.
A kitchen peninsula is similar to an island, but it is connected to a wall or cabinetry on one side instead. It provides extra counter space and storage and some prefer a peninsula because it doesn't intrude on the flow of traffic in the kitchen and should be positioned to allow easy access to appliances and cabinets.
2. Rolling Cart:
A rolling cart can be a great alternative to a kitchen island, as it can be easily moved around to where it's needed. Kitchen rolling carts provide you a separate space to prepare food and store utensils and supplies.
It can also be used as a serving cart or bar, making it ideal for entertaining, no matter how big or small the kitchen space. These carts can be customized using individual cabinets to meet anyone's layout ideas. Moving wheels on cabinet bottoms in without issue. Ask your Boger design consultant for details.
3. Wall-Mounted Table:
A unique and unconventional kitchen upgrade is a wall-mounted or fold down table. This table choice can be a great space-saving solution for a small kitchen without islands.
A fold-down table can be a space-saving option for smaller kitchen spaces that are looking for an island alternative. They can be folded up when not in use and can also be used as a prep area.
4. Breakfast Bar:
A breakfast bar is an easy set up that can be attached to a wall or cabinetry and provides extra space. It is typically a small space that is ideal for coffee and casual dining.
It can also be used as an additional work surface.
5. Pot Rack:
For homeowners that are looking for additional storage space for kitchen items and utensils, this is the kitchen upgrade for you! A pot rack can be installed almost anywhere in the kitchen, and it provides both storage and a decorative element.
This rack is ideally designed to hang pots, pans, and any other hangable cooking items, from the ceiling or wall in the kitchen.
6. Kitchen Desk:
The kitchen is usually a neutral meeting space for most families, so having an area to convene during the day is important.
A kitchen desk can be a great multi-purpose space. It can be used for homework, bill-paying, or as a workstation for cooking or baking. Many see this as a convenient addition to the kitchen. Our Fishers Indiana showroom has examples that are displayed.
7. Open Shelving:
Open shelving can be used as an alternative to a kitchen island. It provides storage and can also be used to display decorative items. Often a popular choice, open shelving is great for making smaller kitchen spaces seem larger. Frontier shelves has become very popular over the last few years. Boger Cabinetry offers several options and are displayed in our fishers Indiana showroom.
8. Kitchen Window Seat:
A window seat can be a cozy addition to a kitchen. It can be used as a dining area or as a spot to relax, read, and enjoy some coffee. This seating usually involves a bench installed against the kitchen window pain, making it ideal for bigger kitchen areas. You can even install cabinets underneath your bench seating.
At Boger Cabinetry, we have plenty of quality cabinets in various colors to chose from that can compliment the kitchen area, such as our popular kitchen Aria Blue cabinets. If your kitchen layout permits this addition, we will be pleased to consult with you to explore any potential options.
Frequently Asked Questions ( FAQ's)
Do Kitchen Islands Increase Home Value?
Traditionally, kitchen islands are known for adding space and value to a home. They are an attractive and highly sought out feature in modern homes. However, there are many other ways to expand and upgrade your kitchen without involving a kitchen island.
Is a Kitchen Island Waste of Space?
Kitchen islands are not always a necessary addition; however, we wouldn't consider them a waste of space either. Because of the additional storage space, extra counterspace for preparing food or serving meals, and seating for dining or socializing, a kitchen island is usually a very sought after feature. Of course, whether a kitchen island is a good use of space will depend on the specific needs and preferences of the homeowner.
People Also Ask Questions –
Are Kitchen Islands Going Out of Style?
Kitchen islands are not going out of style. They have become a staple in many homes and are quite often requested in modern homes today.
Can You Have a Kitchen Without an Island?
Yes, achieving a functional kitchen without a kitchen island is possible. Depending on the layout and design of your kitchen, having a kitchen without an island can still have plenty of counter space and storage.
Summary
There are many alternatives to the conventional kitchen island that can add both style and functionality to your kitchen. From a kitchen peninsula to a mobile kitchen cart, these options also provide extra countertop space, storage, decorative options and even seating, while also maintaining a unique and personalized look for your kitchen.
For more kitchen ideas, or to shop for top quality kitchen cabinets, Boger Cabinetry has just what you need to create your dream kitchen.