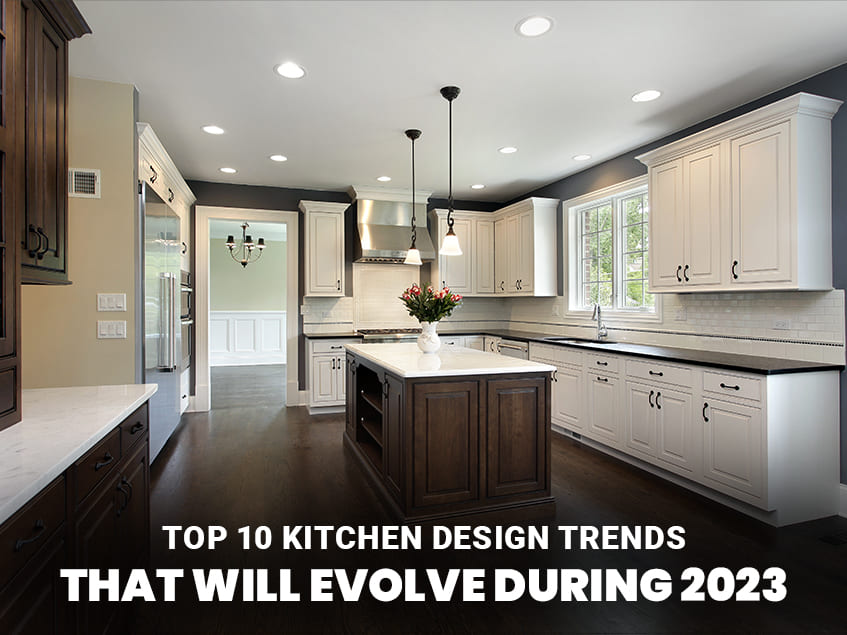 16 Mar

Top 10 Kitchen Design Trends That Will Evolve During 2023.

Every year, home décor evolves into a new trendy modern-day style. Some styles are new and innovative, but majority are familiar trends that are either being reinvented or just simply back in style. We're here to keep you up to date with the latest kitchen design trends that are evolving in 2023.
1. Mixed Materials
Adding visual appeal to your kitchen design is the simplest way to make your kitchen décor stand out. Mixing materials can give your kitchen texture and depth, rather than just color. Combining different materials such as wood, concrete, metal, and glass is a trend that has been gaining momentum in recent years and is likely to continue into 2023.
2. Bold Colors
Going bold in the kitchen can seem like a risk, but it's actually the best area to take a chance on those bright colors you've been wanting to try. Bold colors in the kitchen can help to brighten the aesthetic and create a lighter mood in the kitchen. Making it an ideal place to entertain and host guests. The trend for bold and bright kitchen color schemes is likely to continue, with vibrant blues, yellows, and greens, being particularly popular. Now available in Boger Cabinetry without having to pay for custom.
3. Custom Storage
Additional space in the kitchen is a fan favorite. Having the ability to customize your storage space gives you access to more room in the kitchen and less clutter. Custom cabinetry and pantries are becoming increasingly popular, allowing homeowners to create a kitchen that suits their specific needs and preferences.
4. Statement Lighting
If there's a special area in your kitchen, that you'd want to highlight or put a spotlight on statement lighting may be the trend for you. Statement lighting can be used to highlight a kitchen island, dining table, or kitchen backsplash. They're also a great way to add functionality and style to your kitchen by using your light fixtures to help keep food warm. Utilizing unique and interesting lighting fixtures can add personality to a kitchen and are likely to continue to be a popular design trend in 2023. Have you considered lighting up the toe kick areas for added ambiance?
5. Sustainable Design
The minimalistic lifestyle is upon us and taking over as the years go by, so it's no surprise that in 2023, sustainable designs and living is an ongoing trend. Eco-friendly and sustainable designs will continue to emphasize on using natural and organic materials, such as wood, metals, natural colors schemes and natural lighting. Investing in eco-friendly kitchen appliances is also becoming popular. Appliances that preserve energy and save on money, are great additions to the kitchen scene and come in modern styles.
6. Smart Kitchens
Speaking of eco-friendly appliances, another popular trend is smart kitchens! They are the next best thing by adding extra convenience in the kitchen. Investing in high-quality appliances that are Energy-Star certified and equipped with smart features, like touchscreens and Wi-fi connectivity, will take your kitchen to the next level. With voice-controlled devices, on-command appliances, and virtual assistance, smart devices and kitchens are not going anywhere any time soon.
7. Minimalist Design
Clean and simple designs are in with the minimalistic trend. This modern trend presents a clutter-free and spacious environment in kitchen décor. You can create this minimalistic look by creating a clean, simplistic look with your kitchen design. Focus on kitchen functionality and efficiency by optimizing storage and countertop space in your kitchen layout. Another great way to master this minimalist style is by using natural tones and materials that complement the style and give a sleek appearance, such as woods, stones, metals, and neutral tone color palettes.
8. Mixed Metals
Creating a futuristic look has become a trendy style in the new year. Mixing metals adds to that futuristic and minimalistic look, while also creating visual interest in your décor. Consider combining different types of metals in your kitchen, such as brass, copper and stainless steel to give your kitchen depth and versatility. Another way to incorporate different metals and textures is by mixing different finishes and accessories, like polished metals, brushed or matte.
9. Textured Surfaces
Using textured surfaces such as natural stone, wood and 3d tiles add layers to your kitchen design. It creates an abstract view of your kitchen design, bringing depth and range to your kitchen look. You can create this look by picking a desired wall or surface space and select a material that is durable and textures. Keep in mind that your floor tiling can also give a textured feel with materials like slate, brick, or even natural woods. The goal is to add warmth and depth to your kitchen décor with this trend.
10. Open Shelving
As another customizable storage option, many are opting for open shelving this year. Swapping out traditional cabinets, pantries, and drawers can create an open and airy space that a lot of homeowners are wanting in the kitchen. Of course, when you're considering open shelving in your kitchen, you want to keep in mind your needs in the kitchen and functionality. Open shelving can be optimal for space but can create a storage hassle for some kitchen items. So, maybe consider switching out a few cabinets or drawers for open shelving, instead of a whole rack. Also, keep in mind your design and kitchen layout when reconstructing your cabinet and wall space.
Overall, your kitchen space should be a reflection of your personality and your home aesthetic. It's important to remember that trends come and go. So, if you're planning on renovating your kitchen area, then try to incorporate trends that will continue to evolve and can be reinvented if necessary. This way, you're not spending thousands of dollars on renovating every few years. Hopefully, our list of top 10 kitchen design trends that will continue to evolve this year helped you decide which trends work best for your kitchen space.
FAQ's
– What will kitchens look like in 2023?
In 2023, it's safe to say that we are starting to see more of a trend of smart kitchen designs with a minimalistic style. Many homeowners are loving the convenience that they get from having a smart kitchen and appliances, as well as the open airy space that comes from a minimalist design. These qualities in a kitchen design give homeowners peace of mind in their living space.
-What kitchen cabinets are in style for 2023?
As mentioned, open shelving has definitely become a popular choice. However, if you're looking for a trendy cabinet style specifically, then two-tone cabinetry has been a rising trend in 2023. Two-toned cabinetries consist of the upper and lower cabinets painted or stained in different colors. This can create visual interest and color contrast in the kitchen design. At Boger Cabinetry, our Aria Blue and Avalon shaker style cabinets have been a popular selection that stands out from traditional white cabinets.
– What kitchen colors are trending for 2023?
Bold and bright colors are taking over the kitchen scene this year. If you're considering painting your kitchen, consider colors that stand out, such as shades of blue, green, yellow, or even red. These colors add vibrancy to the kitchen and can surprisingly make the space more inviting and comforting.